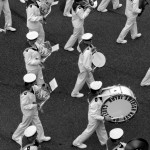 Musikkårens Historia
Marinens Ungdomsmusikkår bildades 2002 i samarbete mellan entusiastiska föräldrar, Marinens Musikkår och dåvarande Försvarsmusikcentrum. Föreningen bildades i kölvattnet till avvecklingen av de lokala skolorkestrarna i Karlskrona och som en reaktion på den upplevda nationella nedgången av blåsmusikintresserade ungdomar.
Duktiga unga blåsmusiker fick så på nytt chansen att spela och marschera i en musikkår. Initialt var projektet lokalt och lockade främst ungdomar från Blekinge och södra Småland. Repetitioner bedrevs 4 timmar varannan söndag, vilka resulterade i enstaka musikmarscher och konserter. 2007 tappade föreningen fart och kåren bestod då av blott 17 musiker, varvid det skedde en stor nyrekrytering och verksamheten ändrade form.
Sedan 2008 har musikkåren varit en rikstäckande realitet för hundratalet musicerande ungdomar och verksamheten har vuxit till att bli en erkänd musikkår med god musikalisk kvalitet och förmåga. 2009 genomförde man som första ungdomsmusikkår, vid sidan om de tidigare värnpliktsmusikkårerna, ceremonin vid högvaktsavlösningen på Stockholms slott. Kåren har rönt stor uppmärksamhet och fått många lovord från auktoriteter inom militärmusik, både i Sverige och utomlands och är ständigt efterfrågad på den internationella arenan.

The Royal Swedish Cadet Band was formed in 2002 in collaboration with enthusiastic parents, the Royal Swedish Navy Band and the Swedish Armed Forces Music Centre. The association was formed in the wake of the discontinuation of the local school bands in Karlskrona and as a reaction to the perceived national decline of interest in military music.
Talented young musicians once again got the chance to play and march in a band. Initially the project was local and attracted mainly young people from the southernmost parts of Sweden. Rehearsals took place four hours every other Sunday, which resulted in occasional music marches and concerts. 2007 dropped momentum and the band consisted of only 17 musicians, whereby there was a large recruitment and reorganization.
Since 2008 the band has been a nationwide reality for hundreds of young musicians and the band has developed to be recognized with good musical quality and ability. In 2009 the band was the first young band, alongside the former military conscript bands, to be approved to perform at the ceremony of the Changing of the Royal Guards at the Royal City Palace. The band has attracted much attention and received many honours from authorities in military music, as well as audience both in Sweden and abroad.
Större evenemang l Major performances
2004 Swedish Military Tattoo, Sverige
2005 Ystad International Military Tattoo, Sverige
2006 Eksjö Tattoo, Sverige
2006 Swedish Military Tattoo, Sverige
2008 Eksjö Tattoo, Sverige
2008 Hannover Musikparade der Nationen, Tyskland
2009 Bremen Musikschau der Nationen, Tyskland
2009 Slaget ved Nyborg 350 år, Nyborg, Danmark
2009 Polizei-Show Hamburg, Tyskland
2009 Fulda Military Tattoo, Tyskland
2010 Musikparade Germany; Frankfurt, Stuttgart, Erfurt, Munich, Tyskland
2010 Wedding of HKH Victoria and Prince Daniel, Sverige
2010 The Birmingham Tattoo, England
2011 Musikparade Germany; Schwerin, Rostock & Cottbus, Tyskland
2011 Malmö International Tattoo, Sverige
2011 Berlin Tattoo – das original, Tyskland
2012 The Rose Parade – Pasadena, Kalifornien, USA
2012 Eksjö International Tattoo, Sverige
2012 "X Festival Internacional Banda de Musica" i Torrevieja, Spanien
2012 MUK 10 år, Jubileumskonsert tillsammans med Marinens Musikkår
2013 Zürich Tattoo, Zürich, Schweiz
2013 Nyårsonsert med Sven-Bertil Taube, Karlskrona, Sverige
2014 Musikparade Germany; Dresden, Berlin, Hannover, Tyskland
2014 Det Sønderjyske Tattoo, Aabenraa, Danmark
2015 Tattoo de Saint Quentin, Frankrike
2015 200-årsjubileum Slaget vid Waterloo i London, England
2015 Ystad International Military Tatto
2015 European Brass and Wind Band Festival/International Festival of Music, Bad Schlema, Tyskland
2015 International Taptoe Belgium
Uniform Modell 1930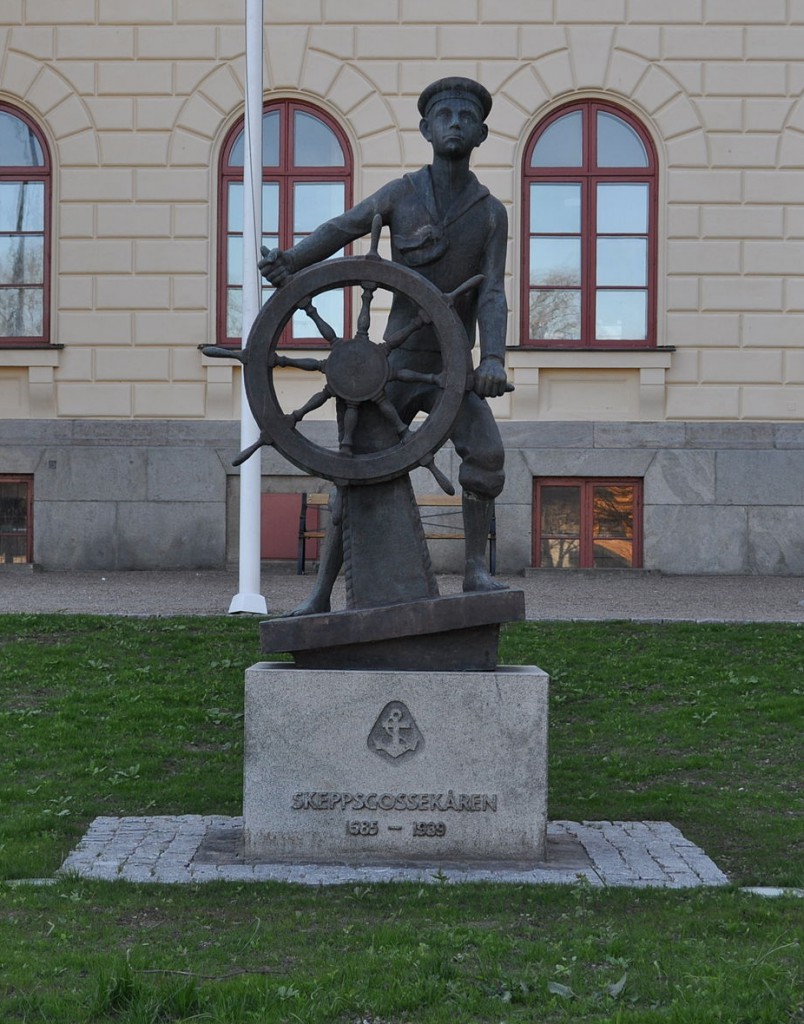 Marinens Ungdomsmusikkårs uniform har sin alldeles egen historia som härrör från skeppsgossekårens forna dagar runt tiden för Karlskronas grundande. Skeppsgossekåren var en kår med ungdomar som fick lära sig att segla och sköta diverse sysslor ombord på de större segelfartygen i Sverige. Skeppsgossekårens historia började 1685 och kåren med sina musikuppvisningar gick i graven år 1939, då den lades ner.
Kåren hade kompanier i Karlskrona, Stockholm och Marstrand.
Uniformen var ofta ganska enkel, byxorna kunde vara sydda av segelduk och blev på så sätt ganska vida. Under kragen bars en råbandshalsduk. Bussarongen var på 1700-1800-talet av ett enklare snitt än den som senare blev standard. Mössan var även den enklare till sitt utförande. Två saker har dock behållits genom historien, mössmärket med det spegelvända ankaret i vitt och toppläntan. Toppläntan är ett band som läggs under hakan, och hade till uppgift att hålla kvar mössan på huvudet när skeppsgossen var till väders i masterna. Det utvecklades senare till en tradition att när parad var beordrat så var toppläntan fäst under hakan även i land, en tradition som Marinens Ungdomsmusikkår hedrar än idag.

The uniform of the Royal Swedish Cadet Band has its own unique story which begins in the early days of the naval city Karlskrona and the Ship-cadet corps.
The ship-cadet corps was a group of youth who were taught sailing and other maritime skills aboard the large sailing ships in Sweden. The history of the ship-cadet corps began in 1685 and the corps with its musical performances was decommissioned in 1939. The corps had companies in Karlskrona, Stockholm and Marstrand.
The uniform was often quite simple. The trousers were sometimes sewn from sail cloth and could therefore be quite roomy. Under the collar, a scarf or råbandshalsduk was worn. Two of the things which have been kept through history are the emblem on the cap and the ribbon for the cap (topplänta). The emblem is an anchor, mirrored with respect to the one in use by other maritime bodies. The ribbon was used during climbs in the masts, fastened under the chin. It became tradition that the ribbon be fastened during parades ashore as well, a tradition that the Royal Swedish Cadet Band keeps alive to this day.
Signalflaggor





Ett av de äldsta sätten att kommunicera med ett annat fartyg är med signalflaggor. Redan på amiral Nelsons tid var det ett vedertaget sätt att få fram sitt budskap i stridens hetta då varken bud eller rösten var ett alternativ. Strax innan slaget vid Trafalgar signalerade han till sin flotta: "ENGLAND EXPECTS THAT EVERY MAN WILL DO HIS DUTY".
Flaggorna ovan bokstaverar "Yankee-Zulu-Mike-Uniform-Kilo" vilket kan tolkas som "Meddelande i klartext följer: M U K", alltså Marinens Ungdomsmusikkårs initialer.

One of the oldest ways to communicate at sea is by signalling flags. Already in Admiral Nelson's time, it was common practise to relay messages during battle with the help of these flags. At the Battle of Trafalgar, he signalled to his fleet: "ENGLAND EXPECTS THAT EVERY MAN WILL DO HIS DUTY".
The flags above spell out "Yankee-Zulu-Mike-Uniform-Kilo" which can be interpreted as "Spelled message follows: M U K", giving the Swedish initials of the Marinens Ungdomsmusikkår.